Introduction and history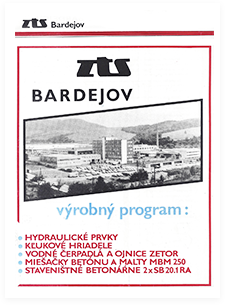 The history of engineering production at the company CHARVÁT STROJÁRNE a.s. in Bardejov dates back to 1970, when one of the last branch plants of the national company ZŤS – ZŤS Bardejov o.z. was finished. 12.
The main program of production of the company ZŤS Bardejov o.z. included crankshafts, hydraulic elements, water pumps, Zetor connecting rods and concrete mixers.
In the 1980s, the production program of the company was supplemented by the production of handling equipment and chassis for the construction machinery of the brand Poclain.
In its development, the company has undergone several name changes. From the founding of the company in 1970 until 1992, it existed under the then name ZŤS Bardejov o.z. Subsequently, from 1992 to 1995, it operated under the name BAS a.s., with a supporting production program consisting of hydraulic elements, hydraulic cylinders and handling equipment.
By repurchasing part of the assets of the company BAS, a.s., the company SB INMART a.s. was established in 1995. And in April 2016 there was another change and transformation to the name SBAJ INMART a.s.
A significant change occurred in October 2017, when the acquisition of SBAJ INMART, a.s. with the company CHARVÁT Group s.r.o. tookplace. Subsequently, on 1 July 2018, it was renamed to CHARVÁT STROJÁRNE a.s.
CHARVÁT STROJÁRNE a.s.
Duklianska 21
08501 Bardejov
Slovakia
Company ID: 36387576
Tax ID: 2020120399
VAT ID: SK2020120399
Gatehouse: +421 54 4867 111
Secretary: +421 54 4867 110
E-mail: info@charvat-strojarne.sk