Hydraulic cylinders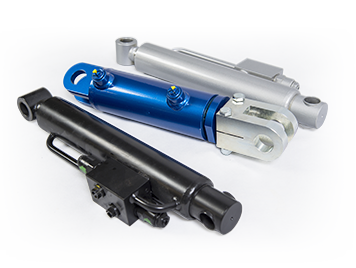 Our company is a leading manufacturer of hydraulic cylinders in Europe. We produce approximately 9,000 pieces of cylinders of various types per month. We focus on large-scale production and work closely on the development and design of hydraulic cylinders according to the technical requirements of our customers.
Hydraulic cylinders (rectilinear hydraulic motors)
Our company manufactures hydraulic cylinders for a wide range of applications, for test pressures up to 45 MPa, with pipes up to a diameter of 200 mm and a stroke of up to 2,500 mm. Our hydraulic cylinders and most of our hydraulic components are developed and adapted to the individual requirements of our customers. Thanks to many years of experience in the field of development, our design department is able to develop high-quality hydraulic cylinders even with atypical design solutions. Close cooperation with the customer allows us to design hydraulic cylinders for specific customer needs.
Our hydraulic cylinders are used mainly in following areas
construction and road machinery
agricultural and forestry machinery
lifting machines and cranes
hydraulic superstructures of trucks
hydraulic presses
Type division of the manufactured hydraulic cylinders
single-acting with plungers
single-acting with guides (piston)
double-acting without damping
double-acting with damping
cylinders with integrated safety and reduction valves
cylinders with stroke synchronization in end positions (master-slave)
Parameters
maximum working pressure up to 32 MPa
piston diameter 25-200 mm
maximum stroke 2,500 mm
Materials used
Piston
chrome bars made of the material 20MnV6/18MnV5, eventually CK 45
chrome-plated rods, surface hardened from the materials CK 45, resp. 42CrMo4V
surface hard chrome-plated, layer thickness 20 µm, minimum corrosion resistance – grade 9 after 120 hours in NSS according to ISO 9227/ISO 10289, or up to layer thickness 40 µm, corrosion resistance – grade 9 after 500 hours in NSS according to ISO 9227/ISO 10289
piston rods from forgings according to customer requirements, surface hardened and chrome-plated in cooperation
according to customer requirements
Cylinder unit
pipes from semi-finished products according to EN 10305-1, EN 10305-2, EN 10210-1 / 2, EN 10297-1, material quality E355, St52, S355J2. Inner surface dynamically rolled, honed, specially shaped, hard chrome-plated on request
Sealing
From well-established companies (or according to customer requirements), ensuring high reliability and durability.
Anchoring
spherical bearings
sliding bushes
thread on/in the piston rod
flange
trunnion (sleeve with pins)
according to customer requirements
Tests
Each manufactured hydraulic cylinder is subjected to pressure and functional tests according to a test regulation. According to the customer requirements, we also ensure high purity of final products in accordance with European standards. We achieve the required purity by processes not only in the pre-production and production stages, but we also perform flushing tests of the final products.
Fotogalerie
CHARVÁT STROJÁRNE a.s.
Duklianska 21
08501 Bardejov
Slovakia
Company ID: 36387576
Tax ID: 2020120399
VAT ID: SK2020120399
Gatehouse: +421 54 4867 111
Secretary: +421 54 4867 110
E-mail: info@charvat-strojarne.sk